Tips for purchasing Bathroom Mirror products
See Bathroom Mirror products production process
As far as the bathroom mirror is concerned, in order to protect the silver ions from reacting with the moisture in the air, resulting in black spots on the lens, a copper film should be plated on the silver film, and a primer and a primer should be spread on the copper film. The top coat enhances protection and prolongs the life of the mirror. And the mirror closure can not have the slightest crack.
Pick the thickness of the mirror
According to the thickness of the mirror, the price is different, generally the thicker mirror is more expensive. Many people choose thinner mirrors in order to save money. It is necessary to know that the mirror is too thin and easy to break.
choose mirror style
The choice of bathroom mirror should also take into account the overall style of the bathroom, and should be consistent with the overall style. For example, some oval mirrors are more suitable for European style, and square mirrors are more suitable for Chinese style.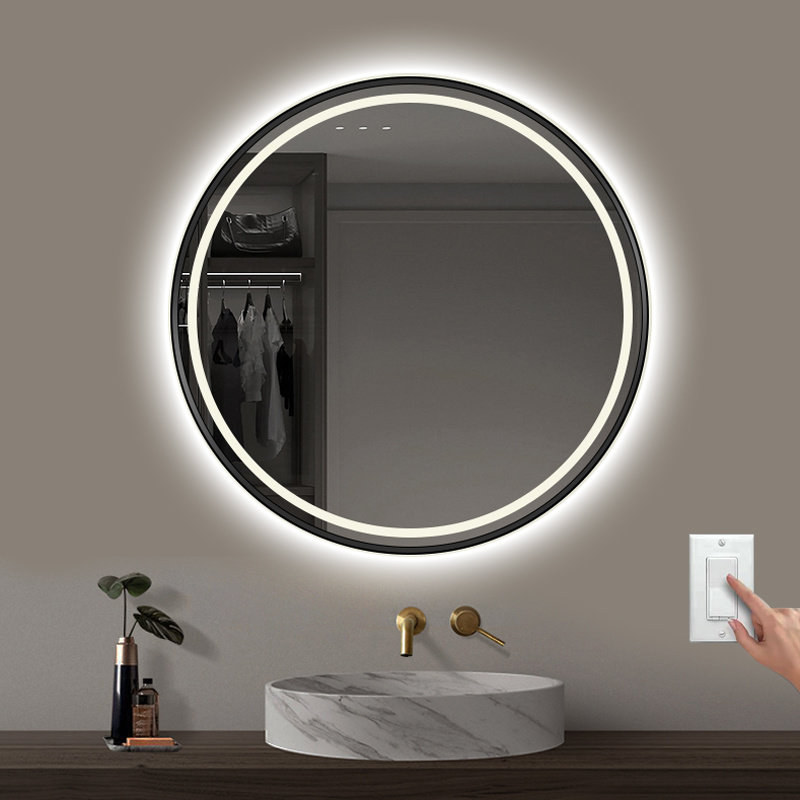 Pay attention to the function of the bathroom mirror
1. Waterproof and antirust bathroom mirror
Ordinary mirrors will become dull if they are placed in a relatively humid place for a long time, and may even rust and fall off. Therefore, it is necessary to pay attention to the waterproof and antirust function of the mirror. Usually, you can observe whether the portrait in the mirror is empty or not at close range, move your gaze up and down or left and right, and see if the object is bent or deformed, you will know whether it is good or bad.
2. Anti-fog bathroom mirror
After taking a shower in the bathroom, there will be a lot of fog, causing the surface of the mirror to become blurred. On the market, a custom-made anti-fog film is generally used, which is a translucent polyester film that can generate heat after being energized. Stick it on the back of the bathroom mirror before use, and try to make it as flat as possible for easy use.
3. Storage function bathroom mirror
Bathrooms generally have a relatively small space. While considering the aesthetics, other supplementary functions must also be considered. Bathroom Mirror products with some storage functions can make up for the lack of bathroom space. Small apartment bathrooms can consider this function.
Bathroom Mirror products ,Bathroom Mirror suppliers china,Bathroom Mirror company
BALEESTON
Persist in making good products is our constant pursuit
---
Copyright© 2021 All Rights Reserved Powerby:300.cn
W/app

Follow us

WeChat

Follow the official account for more inspiration